NORTHERN DAIRY EXPO 2018
Press Release - 25th April 2018
Hefyn Wilson to Judge Northern Dairy Expo 2018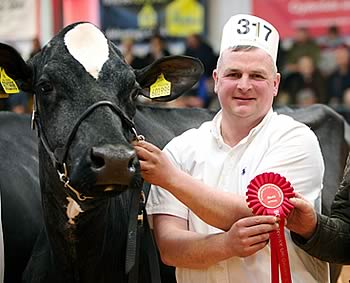 The 2018 Northern Dairy Expo will be held at 6pm on Thursday 25th October once again at Borderway Auction Mart Carlisle. This year's show will be judged by Mr Hefyn Wilson of the renowned Tregibby Herd.
The Tregibby Herd is located in Cardigan, Wales and consists of 75 Holsteins and 15 Jerseys. The herd has had great success over the years gaining Master Breeder status in 2017 and being a previous winner of the prestigious Premier Herd Competition. The Wilson family has had much success at shows such as Agriscot, Dairy Day, and UK Dairy Expo. They also won the Royal Welsh Show four times with Dalesend Storm Maude, a cow that they bought at the Borderway Black and White Sale as a calf. They have won the Interbreed Championship at the Royal Welsh a staggering 7 times since 2000.
Hefyn himself is no stranger to being a judge having judged at the Great Yorkshire Show and the Premier Herd Competition. He will also take centre stage at this years All Breeds All Britain Calf Show judging the Holstein classes after previously judging the Jersey classes back in 2014.